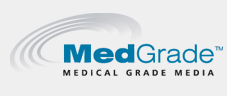 MedGrade Policies and Legal
Personal Information Usage (Privacy Policy)

Privacy Notice to all MedGrade customers

MedGrade is committed to protecting the privacy of its customers in compliance with all relevant data protection laws. MedGrade is committed to the strict requirements of the Council of Better Business Bureau's Privacy Program® regarding the treatment of personal information in any way. With your permission only, we may use your information to contact you regarding promotions and future news.
We will never sell your information to third parties and will on a best effort basis secure any private information you share with use. We utilize Authorize.net as our payment gateway in accordance with the PCI compliance mandates.

Purchase Policy




Domestic Orders- All major credit cards accepted. MedGrade only ships to the billing address of the credit card owner. Purchase Orders are accepted from Corporate, Government, and Educational Institutions. Credit information must be supplied for Credit / Purchase Orders.
International Orders- Wire transfer pre-payment or credit card is required. Please make contact with MedGrade for transferring infromation. Free Shipping offer does not apply to International orders.
Return Policy
MedGrade does not accept returns with out a MedGrade RMA number.
Guidelines & Return Procedures:
Original product must be returned in original condition, free of damages or alterations.

Customer is responsible for shipping product back in the original packaging. The RMA or Return Authorization # should be referenced on the shipping label.
All original components, accessories, manuals, etc., received with the product must accompany the product shipped back to MedGrade.
Return Products must be shipped back to MedGrade Freight Prepaid. Collect shipments will not be accepted.
In some cases we will send a replacement product prior to receiving your return product. If this is the case you will be invoiced for replacement product and a credit will be applied after MedGrade acceptance of the return product.
Return authorization numbers expire after 30 days.
Product returns or exchanges must be processed within 30 days

A Re-Stocking fee may apply to your return.



Copyright 2009 MedGrade LLC. MedGrade and MedSure are registered Trademarks of MedGrade LLC. All rights reserved. All identities used are property of their respective owners.