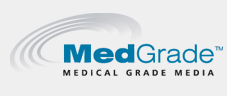 As a MedGrade customer
, automatic membership in the
MedSure
benefit package is included.

1



Same Day Shipping - MedGrade offers Same Day Shipping on all in-stock products. Any order received before 4pm CST Monday through Friday will be shipped out that day. On the rare occurance that a product is on backorder - we will notify you immediately to discuss options.



2




Knowledgable Support

- Our support team is staffed by experienced personnel and is here to answer all of your Medical Imaging and Storage Media questions. All email submissions and phone responses are all handled by trained and experienced media professionals. Please check our "

Troubleshooting"

and "

Frequently Asked Questions"

areas for quick information. And, please feel free to contact us by Email or use our toll free number: 1-877-633-7873.



3




Free Data Recovery on Optical Media

- In the rare case of data loss, MedGrade will provide free data recovery service on a best effort basis. This service is free of charge if user data has been written with the write/verify option enabled and the MO Disk was purchased from MedGrade. Drives without the write/verify feature enabled cannot be recovered by our services.



4




Free Evaluation and Diagnostic Estimates

on Magneto Optical Drives and Tape Drives. See the return authorization form. You only pay the freight.



5




Lifetime Warranty

- All Magneto Optical media products purchased from MedGrade carry a lifetime warranty. All of MedGrade's Magneto Optical Disks carry a manufacturer lifetime warranty. If a MO Disk you purchased from MedGrade fails, contact customer service and we will send you a replacement MO Disk.



6




Free CD / DVD Personalization

- Another great benefit of our MedSure program - Free disc personalization on orders of 200 discs or more. Average turn time for custom discs is 24 to 48 hours.



Customer Testimonials

Here's what some of our customers are saying...
"I just wanted to tell you how much I appreciated you calling me to help me save some money. Not too many retailers would do that in today's world. I told my person who orders everything to start looking at your website first from now on. Hopefully we will do more business with you. Thanks again." -Rick F.
"Thanks for the order so quickly! Enjoyed doing business with you..." -Marilyn D.