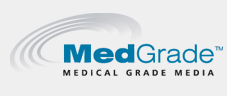 MO Disk/Drive Compatibility Charts
MO Disk Facts - What you need to know
If you are currently using one capacity of magneto optical disk - it is best to order the same size. **unless you are certain that your drive can handle a larger capacity.
Magneto Optical Disks are commonly referred to as

MOD

, MO disks

, and

Optical Disks

Both

disk

and

disc

are common spellings when referring to optical media

Capacity

refers to the amount of data that may be stored on an MO disk

2.3GB magneto optical disk is the most common capacity; and come in both 3.5" and 5.25" physical sizes
5.25 inch magneto optical disks can be either WORM (write once read many) or RW (rewritable)

MO disks are manufactured to ISO specifications
MO Drive Facts
Pioneer is the only magneto optical drive manufacturer that utilizes a proprietary format. If you have a Pioneer drive you will need to purchase Pioneer MO disks

The capacity of disk that you can use is determined by the drive.

MO drives are backward compatible

When replacing a legacy drive it is considered best practice to match both the drive and firmware
Still Have Compatibility Questions?
Call Us with Any Questions
1-877-633-7873

MO Drive Compatibility
Save Time: Make sure you order the right disks for your MO drive...
Remember, you can't just use any ol disk with your MO Drive. Check out our MO Disk/Drive Compatibility Chart to see which MO disks you should be ordering.