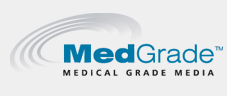 (Your shopping cart is empty)
5 products to choose from. (Displaying items 1 to 5.)
Sony UPC-5010A
Color print pack for the UP-5000 and UP-5200MD series printers. 5 7/8" X 8 3/8" paper size. One pack includes paper and ink ribbon to make 100 prints.
---
Sony UPC-21L
L-Size Paper for the UP-21MD, UP-D21MD, UPD23MD and UP20 Color Video Printers. Each pack contains 200 prints of paper and ribbon (50 sheets x 4 packs). 5" x 3.6".
---
Sony UPT-210BL
Sony Blue Thermal Transparency Film for use with the UP-980 Printer. Approximately 42 prints per roll, 1 case consists of 5 rolls, minimum order of 5 rolls.
---
Sony UPT-735BL
Blue thermal film specific for the UP-D71XR. This media is especially for the C-arm. The size of this media is 8x10 (203mm x 254mm) which is the standard of C-arm market. 100 (8 1/2 x 11") sheets per pack
---
Sony DVO-1000MD
The DVO-1000MD with built in hard drive. The DVO-1000MD employs industry standard MPEG 2 video compression to capture images with exceptional clarity. The DVO-1000MD utilizes a 80 Gigabyte Hard Drive to store up to 30 hours of video.
---


SONY has announced End Of Life

plan for the 5.25" Magneto Optical (MO Disk) line up as of December 2014.

Their estimated run out date for all capacities is September 2015.
T

he global supply of all brands of Magneto Optical Disk will be greatly diminished going forward. Please contact us with any questions you may have: 877-633-7873.
"Add to Cart" = In Stock

and available for immediate shipment
Get great results with Custom Disc Printing on all Medical Grade DICOM compliant CDs & DVDs! With data as vital as patient studies, doesn't it make sense to use the very best? That's why all MedGrade™ DICOM compliant CDs & DVDs utilize the highest quality media available. Let us help you create a professional looking design with

Custom Disc Printing

by MedGrade!




As a MedGrade customer, automatic membership in our industry leading

MedSure

benefit package is included.

Complimentary Data Recovery

MO Drive Analysis & Service

Lifetime Warranty on Media

Be confident knowing that both you and your critical data are protected by

MedSure

.